The Azur Gaels are proud to present… AZUR GAELIC FESTIVAL!
Head on down to Complexe Sportif Pierre Operto, Biot on the 29th October from 10am until 6pm (free entry).
Backed by the GAA and the Department of Foreign Affairs (DFA) in Ireland, the event is a day-long exhibition of gaelic games and Irish culture – a first for the Côte d'Azur.

The programme includes:
– International gaelic football tournament between Azur Gaels, GF Provence (South of France), SS Lazio Calcio Gaelico (Rome) and the Bar Council of Ireland (Dublin)
– Introductory sessions to gaelic football for women and children
– Hurling workshop with challenges and prizes to be won
– Irish dance demonstration thanks to Azur Irish Dance Academy
– Concert with James Hall, young Irish talent
– Company of Jimmy Deenihan, 5-time All-Ireland senior football champion
– Bar, snacks, tombola
All followed by a dinner and after-party at Ma Nolan's Irish Pub, Vieux Nice!
In addition to those mentioned above, we're proud to count O'Neills, our sports equipment supplier in Ireland, and Roots Bar, who host our famous bi-monthly pub quiz, among our partners for this event.

Come and experience the first ever Azur Gaelic Festival, which promises to be a fun-filled and friendly affair.

Azur Gaels abú !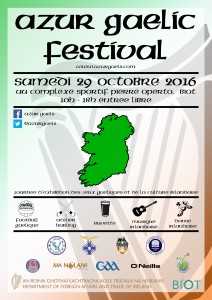 Save
Save
Save
Save
Save
Save