The 31/01/2016 was an extraordinary day for Azur Gaels and for our sport.
The Eagles and our neighbours the Bulls of GF Provence lived the dream of every GAA club in France, playing out a curtain-raiser match before the Top 14 heavyweight rugby clash between RC Toulon and Stade Français… Meaning that Azur Gaels' first ever home match took place at the Allianz Riviera stadium in Nice! But it was GF Provence that held on to the famous Cigale d'Or trophy disputed between the two teams, by a solitary point.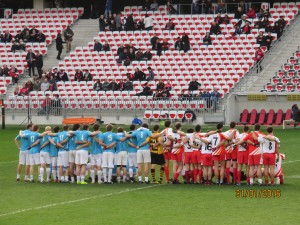 Despite Azur Gaels storming into the lead with a quickfire hatrick of goals, The Provençal opposition were able to steady the ship and convert a penalty in the 2nd half, before hauling themselves back into it point by point. The game ended on a score of Azur Gaels (3 : 0) – (1 : 7) GF Provence.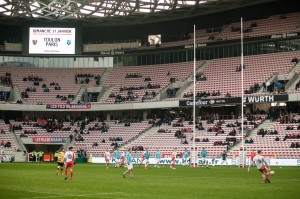 This was the match that got both young teams onto Canal+ (a first for gaelic football in France), and our beloved sport seen by thousands of spectators in situ and on TV. The Irish media had plenty to say as well…
And all this, after just 4 months in existence. We'll leave it to you to imagine everything we'll have achieved after 4 years… !
Save
Save
Save
Save
Save